Shue's Pond
First it was the home built for Robert Laird McCormick, an original investor, secretary and general manager of the Northern Wisconsin Lumber Company, who needed a home befitting his substantial position in the growing community. He was Hayward's first citizen during the logging boom.
A spot was chosen on a hill overlooking what is now called Shue's Pond. The Queen Anne was completed in 1887; the McCormick family lived in it until 1902 when they left Hayward for Tacoma, Washington.   McCormick was perhaps the town's most influential citizen. He was a member of the Sawyer County Board of Supervisors, on the board of the fledgling Hayward Library, involved in the construction of the Indian School and was president of the Sawyer County Bank.
When McCormick left Hayward he donated the land surrounding Shue's Pond to the city, with the condition that the property remain park land for the enjoyment of the citizens.
Hayward City Beach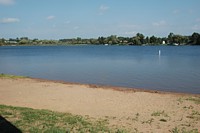 Open Yearly from
Memorial Day – Labor Day
Daily 10:00 AM – 8:00 PM
RULES:
NO lifeguard on duty – swim at your own risk
NO littering
NO glass containers
NO alcoholic beverages
NO dogs or animals on beach
NO horseplay or abusive language
NO floatation devices allowed
NO radios or bikes on beach
NO swimming beyond barrels
NO feeding ducks & geese or any wildlife
Children under 12 must be accompanied by an adult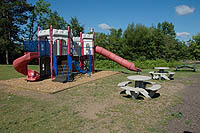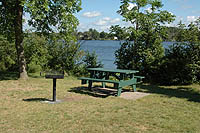 Pedestrian/Bike Trail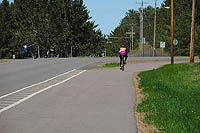 The City of Hayward has a four mile long paved Bicycle/Pedestrian Trail. It begins on the north side of town at the intersection of State Highway 27/77 and Nyman Avenue. From there it meanders through the residential area of the city traveling south along Nyman Avenue to Radio Hill Road. It follows Radio Hill Road towards the Hayward Golf & Tennis Club. It then goes south between the Golf Course and the Soccer Fields at the Primary & Intermediate Schools to the north end of Michigan Avenue. From there, it runs southwesterly along Fifth Street to Johnson Street. It then runs west along Johnson Street and the Golf Course to Sutliff Drive which is the entrance to the Hayward Sports Center and Middle School. Running along Sutliff Drive, it then heads south adjacent to the baseball fields and travels behind the Hayward High School then along Greenwood Lane intersecting with US Hwy 63 and running northwest to Dyno Drive to US Hwy 27 traveling south to County Road B, where it currently ends. Trail was extended in 2012 along County Road B.  Contact Hayward Chamber of Commerce for more information.
City of Hayward Bike Trail Map — click here
Smith Creek Trail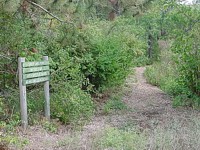 Smith Lake Holding Pond has a nature trail forming a loop around the Pond. In front of the Pond is a charming quiet mini park called "Strawberry Hill". There are two creeks that empty from the Pond that flow through the City and are on either side of the Park. This area was involved in the historic 1941 Flood.
Tot Lot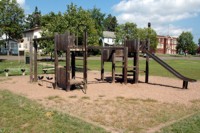 A recreational park located at the corners of Fourth Street and Minnesota Avenue.
Located on site is playground equipment along with a large field for many spring, summer and fall activities (i.e. football, baseball, soccer, flying a kite)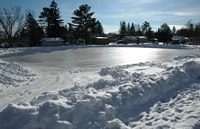 During the winter months, the field is flooded for a public ice skating rink.
Smith Creek Dog Park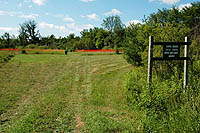 Smith Creek Dog Park ~ Mission Statement
DOG PARK GUIDELINES
Dog owners and their pets are welcome to enjoy the park -to insure that this purpose is met, please follow these guidelines and have fun!
GENERAL GUIDELINES:
– Please be a responsible dog owner and follow all posted rules.
– Dog owners are required to license and vaccinate their dogs and have proof while at the park.
– Dog owners will be liable for the full value of any Park property damaged by their dogs.
– The City of Hayward Police and Sawyer County Animal Control will spot-check usage, licenses, and compliance with Dog Park rules.
– CONTACTS: City of Hayward Police 634-8961; Sawyer County Animal Control: 634-5139; or the
Sawyer County Sheriff Department: 634-5213
Dog Park Dos and Don'ts – Click here for more info!
Dog Park Sawyer County Ordinance – Click here for more info!
Skateboard Park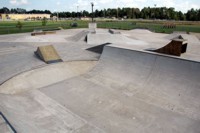 Located on Greenwood Lane in Hayward, Wisconsin is an "all concrete" park where rollerbladers, BMX bikers and, of course, SKATEBOARDERS are all welcome.
COME AND CHECK IT OUT!
How did the Skatepark come to be you ask, well here's our story:
In the early 1990's skaters had free reign to the Town of Hayward to skate and shred with little or no problems. As interest in the sport grew, so did the amount of skaters and soon there were problems. In 1994 Erik Lawry, an avid skateboarder, proposed a Skatepark to the Hayward City Council as part of a school project. To his surprise, they told him to do some more research and come up with a proposal and they would consider the park. Erik started gathering as much information as he could in the hope that his dream could become a reality. In June 1995 Erik was tragically killed in a dirt bike accident. In memory of Erik, his family, friends and community banded together and took up the cause. They held fundraisers, such as, snow tubing and snowboarding parties, snowmobile speed runs and airplane rides in order to raise the funds needed for the construction of the park. By 1998 they had raised approximately ½ the funds needed to construct the park. In order to see his son's dream come to light, Erik's father, Randy, donated the remaining funds. Erik's best friend, Adam Hall, has spent countless hours designing the park in memory of his friend and in the summer of 1998 with help from Jerry Lester Construction and volunteers, the "all concrete" Skatepark was completed and the Erik Lawry Memorial Park was born. A non-profit organization was started with the task of maintaining the park and keeping it free for skaters, bikers and bladers. Little did they know that lightening would strike twice. In June of 2001, Randy died unexpectedly on a fishing trip in Canada. The board, under the leadership of Adam, thought it only right to honor Randy's hard work and dedication by adding his name to the park. The Randy & Erik Lawry Memorial (RELM) Park Association board works hard to keep our fallen heroes dream alive. Fundraisers are held in order to have the funding to maintain and improve the park. The annual RELM Fest is held at the park each year to help promote action sports and offer healthy competition. The goal of the organization is to offer youths a safe and fun place to learn and practice their sport. The board continues to raise funds for the remodeling and expansion of the current park. The park will then become 100% efficient and combine both street and pool riding in one place. This would allow youths a chance to find their fullest potential. The board holds monthly meetings and encourages anyone to attend and participate. THIS PARK WAS BUILT BY SKATERS FOR SKATERS.